1-page Starter & Micro Websites
Start small, get bigger later (or not!)
Hand made, responsive, optimized Word Press sites.  
We'll get you up fast, keep you there & help you grow!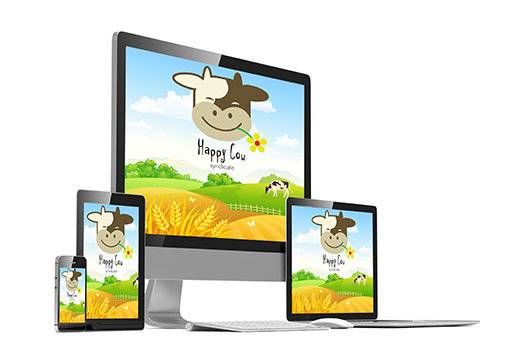 Fast and clever 1-page websites get the job done on time and on budget.
And yeah, we look good doing it too. Really good. Across all devices. Big, little and small.  Moo.
We think you're going to like us at Happy Cow.  Sure, we've got mad skills and we like to dazzle. But we also like to lock our horns and 'get 'er done!" So there is it:  we build sites that are good looking, smart AND capable.  Moo.
So what does a Happy Cow website look like?
So what does a Happy Cow website look like?

So What's this all about?
We have fun at Happy Cow Syndicate

But we're actually pretty serious about creating really great 1-page starter and micro sites for tiny businesses. That's our niché: compact 1-page sites that look and work great on everything, but especially on mobile devices where you get everything you need by scrolling vertically with your thumb.
Why just one page?

Lots of reasons. Not everyone needs a fat site. Thin sites can be faster, cheaper and more effective. In 2018, 58% of all websites were accessed from a mobile device. Mobile users really don't like clicking on little menu buttons with their big fingers. So they scroll with their thumbs. They scroll and scroll. And scroll. It's navigation by thumb. And — of course — you can only do that if everything you need is on one page. So, since that's the "writing on the wall," that's exactly the kind of website we're going to design.
But I need a lot of back pages

Happy Cow makes 1 page sites for tiny businesses. That's what we do. But we are a part of the GXHQ Constellation of Marking Properties, and we've got sister companies that can do just about anything for any size organization. For example, the Express Business Network can make just about anything for small businesses (3-25 employees). Use them for your larger site! Contact Express
For more information about our sister companies and all the other things we do, visit GXHQ.us
What's with the weird name?

What weird name? Wait. WHAT? Ha! Our founder has been making creative products for a long time, and generally puts a copyright line somewhere in his work. On this website, for example, you'll find it at the bottom of this page, in the footer. This practice did not escape the notice of his small children, and as soon as they could write, they began copyrighting their work too. Only they invented the name "Happy Cow Syndicate." But what does it mean? Who knows? They couldn't explain it either. He'd ask, and they'd just say, "Moo!" But what a great name for a company! And here we are.
Who are you?

Happy Cow Syndicate is a part of the GXHQ Constellation of Marketing Properties, and is captained and choreographed by Christopher Damon. Chris has been providing strategic and tactical marketing services to national and regional clients in the Greater Austin Area for over 30 years. If you live in the North Austin area, you are most certainly familiar with Chris's work. Happy Cow is a new initiative. With Happy Cow, Chris is leveraging his approach, philosophy and decades of experience to serve the needs and budgets of the smallest businesses out there: the solo practitioners, the one-man-bands, and the self-employed.
Who are you for?

Great question. Happy Cow creates custom web products that promote independent, tiny businesses. By independent, we mean operations that are on their own, and are not supported by a corporate office or franchise. And by tiny, we mean really small: ONE OR TWO PERSON OPERATIONS. The solo-practioners. The self-employed.
Why tiny businesses?

Tiny businesses have a special place in our hearts, because — over the years — we have been tiny many, many times. We know their frustrations. We identify with tiny businesses, their needs and budgets, and we think we can help. Plus, always wished we had a group like Happy Cow in our court.
Why should we use YOU?

If you have a tiny business, you may have noticed that the industry has been rushing to provide organizations like yours with a lot of automated do-it-yourself products. NO HUMANS. And that's fine, but we're more interested in going the opposite way. We want to provide tiny businesses with a high quality human experience, with custom, thoughtful and creative work. And we think we've figured out how.
Do you do e-commerce?

Light e-commerce, sure. If you've got a couple of products you'd like to transact, and they fit nicely on a 1-page site, no problem!
The Happy Cow Product Line
We love hearing from our friends, but not so much from the spam robots. To send us a private mail, simply fill out the form below. This is a secure form, so be sure to fill out the simple "Captcha" arithmetric at the bottom. It sounds silly, but this is how our system differentiates between mails sent by humans and mails sent by evil spam robots.
Happy Cow Syndicate
1 page starter websites for Micro-businesses
110 E. 7th Street, Ste. 311
Georgetown, Texas 78626
512-387-0935
You're going to like Happy Cow
We make udderly awesome and crazy clever websites for tiny businesses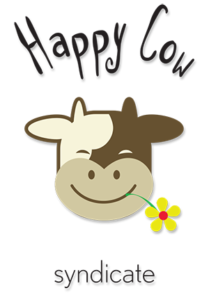 ( Plus we've got mad skills 🙂 )

Udderly Awesome one-page Wordpress websites for micro businesses
Happy Cow Syndicate
110 E. 7th Street, Ste. 311
Georgetown, Texas 78626
512-387-0935
© 2019 Happy Cow Syndicate